Lukas Rossi is no stranger to the Toronto music scene. He's played many shows in TO, and his most recent Love and Lust Tour shows were great success. But it was the very first time his new band, Stars Down was playing in the Big Smoke. I was so excited to see them play together for the first time! I've heard such great things from peeps who saw the show in L.A., I was really anxious to finally see them live!!!
And boy, I was NOT disappointed. From the very first song to the very last one, Lukas (vocals and guitar), German (backing vocals and bass) and Jon (drums) were simply put, AMAZING. Fantastique, merveilleux, incroyable, as I told them later on. The crowd was very receptive and giving their boy tons of love, and embracing the band as well. And the band gave all their love right back to us!!!
Set List: (may not be in order)
Police
Sunrise of a Digital Star
Here Comes The Rain Again
Empty City
Burning Bridges
Mona Lisa
Anything Anything
Monster
Moonstars
Take Two
Last One Standing
Headspin
Encore - Car Crash
Encore #2 - Good Enough
I was familiar with all the songs but one, Burning Bridges. Awesome new song! The songs Lukas played on his acoustic tour were done with the full band this time around, and it was like hearing new songs all over again. They sound so different, but totally amazing nonetheless. And the new Stars Down songs? Just fucking awesome. They are quite different from what Lukas has written previously, but just every bit as good.
The band also played two covers, which fit really well with the rest of the set: Here Comes The Rain Again (which I think of lukas song now, he makes it his own!) and Anything Anything (that one totally rocked!).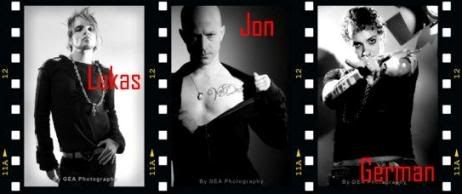 Lukas voice was amazing. And he looked so happy! It was the full on rock star we saw last night, complete with the "Lukas" moves and the "Lukas" faces. Intense, mesmerizing, can't take your eyes off of him!
It was the first time I had seen Jon play drums. He's SO freaking GOOD! It was a lot of fun to watch him play off of German, too.
And German? He gets so into the music, he's great to watch! And he's funny - he talked quite a bit to the crowd, and seemed to get a kick out of playing in Lukas' hometown.
My favorites from the new songs are Monster and Mona Lisa. And they work so freaking well live! Awesome to hear them last night.
There were two special moments during the set. Lukas father, who goes to many of Lukas show, was there in the audience. And for the very first time, Lukas mom was there as well, which made this extra special. Lukas had us chanting her name to say hi to her. It was such a nice moment!
And then there was Headspin. Lukas played it acoustic and changed it up quite a bit. He ended it singing "That's the way I want to live my life, without your curse" a few times, then encouraging the crowd to sing along. At first it was pretty faint, like the crowd was shy or something. But then Lukas motioned for us to sing louder, and turned the mike towards us. It was beautiful to hear the crowd get louder and louder. The emotion was quite visible on Lukas face.
At the end of the set, we were treated to an encore with Car Crash! I love, love, love that song. Live, I love it even more! The band said their goodbyes after that and headed backstage. But the crowd WOULD NOT quiet down - cheers, screams, claps, we were making so much noise for the band! People were banging their glass on tables, stomping on the floor, cheering for more. And we were rewarded with a second encore! Lukas came back saying they did not have another song ready, and they ended up singing Good Enough, which was totally awesome.
As a bonus, we saw a few people from Canadian Idol - Zack Werner (judge), Jessica Sheppard, Tetiana Ostenpovitch and Oliver Pigott. I talked a little bit with Oliver (he's very nice!) - he told us he had gotten eliminated, and we were all shocked. He seemed ok with it all tho. He told us he's playing a show with his brother Sebastian this Friday in Toronto at Reilly's. Come check him out!
The night couldn't have been better, and I felt so proud and happy for Lukas. He deserves the recognition and success! I already cannot wait to see him play again.