American Idol Season 7 Tour has started, kicking off in Glendale Arizona.
Articles and Reviews'Idol' Tracker: Live from Glendale, the tour begins
http://latimesblogs.latimes.com/showtracker/2008/07/idol-tracker-li.html
Excerpt:
David Cook's set leaves little doubt whether he is truly a rock star. The singer who created so many show-stopping, take-your-breath-away moments in the Idoldome showed he could do the same before a group of 12,700. His set contained one amazing piece of news as well, as he announced he had just learned that morning that his brother's tumor had "stopped growing."

He then broke into an extra joyous run through "My Hero," dedicated to his brother. Throughout the season, Cook no doubt wary that it would seem a manipulative plea for sympathy, avoided making direct reference to his brother's illness, attributing the bracelet he wore in support of cancer victims to a suffering little girl. Now, finally that he has been given some good news, he at last shared it with the audience. One can't help feeling that he is a very rare class act, Mr. David Cook.
'American Idol' tour hits the right notes in Glendale
http://www.azcentral.com/members/Blog/ConcertReview/27024
Excerpt:
Cook can come off as cocky on stage; constantly exerting the crowd to get up by waving his arms seemed a bit bold for someone who couldn't have filled a bar in Glendale last year, much less an arena. But then Cook discussed a sibling who is suffering from cancer: "My brother's tumor has stopped growing!" he happily told the crowd, and it was hard not to be touched. His set was uneven, though his spooky Michael Jackson-by-way-of-Chris Cornell version of "Billie Jean" sure was hard to beat.

For the encore, all 10 vocalists were on stage, marching back and forth across the stage while singing Rihanna's "Don't Stop the Music." Brooke and Jason both seemed a bit sheepish; David C. grinned happily and David A. looked up at him like a proud little brother. Hey, if you have to throw a group number in there for a closer, this wasn't a bad way to end a fun night.
Live Review: American Idols Live in Glendale, AZ
http://www.livedaily.com/news/14481.html
Excerpt:
In a show of solidarity--and modesty--winner David Cook stood backstage in the wings during White's take on Coldplay's "Yellow," encouraging those sitting side stage to cheer her on. When her number was done, he stood and allowed fans to take pictures of him.



While introducing Cook, the gee-whiz Archuleta teased, "You're in for a real treat here. Enjoy the wild ride."

Despite Archuleta's fervent following, winner Cook was hands-down the star of the show. His rock take on Lionel Richie's "Hello" showed a superstar of the future, following in the footsteps of former contestant Chris Daughtry. Between the chorus and the verse of "Hello," Cook smiled and said, "I like this," in response to his fans' shouting.
Videos
Pride (In The Name Of Love) - thanks sweetersacrifice
Hello - thanks mj!
Hello - thanks virgogirlgm!
Time of My Life - thanks virgogirlgm!
Don't Want To Miss A Thing - thanks virgogirlgm!
My Hero - thanks mj!
thanks virgogirlgm!
Billy Jean - thanks mj!
thanks virgogirlgm!
Please Don't Stop The Music - thanks sweetersacrifice!
Pictures
From mj: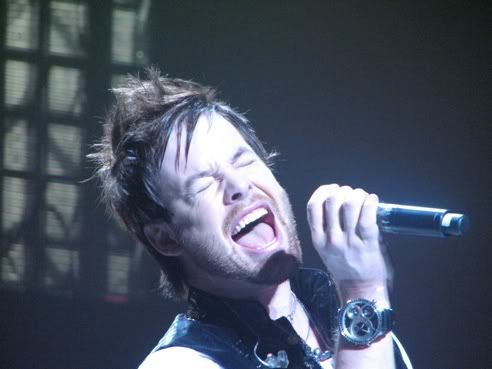 From livehead16: