Well, well, well...
Oh boy was the group sing cheesy and bad. Of all the good songs from that area to choose from, and they came up with that medley of songs??? [/sarcasm] Good news was, Michael sounded great and so did Amanda.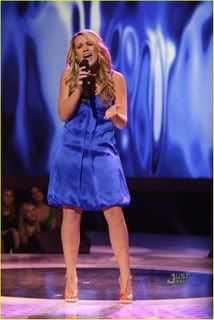 I was very surprised that Amanda was safe, and that Alexandrea was sent home. I like Amanda, and I am happy she is staying, but when I saw her up against Alexandrea, I really thought she was going. I am a bit disappointed to see Alexandrea go tho - she was spunky and fun and could really sing. She was different, but I guess she didn't have the chance to show how different and interesting she could be.
Very cute how David A. was crying, and she went to hug him at the end... Little romance brewing there? ;)
I was not surprised to see Jason Y. leave tonight. He does have a good voice (I like his tone very much), and his singing was way better tonight compare to Tuesday. But he really has to work on his stage presence, and on not to smile so much when he sings. I think he could do well, but he's got work to do.
Alaina vs Kady.... I really was expecting Kady to leave, and I think she did, too. Poor Alaina, she really was taking it hard. Ryan was sweet with her, and it was nice that all the girls were encouraging her to sing. I actually really liked her rendition tonight, she gave me chills. If all the contestants could sing like that - with raw emotions and like it is their last time on that stage - I can tell you we'd have many more great moments on that stage and on that show.
Aw, again, David A and Danny were crying for Alaina... So sweet.
Robbie vs Luke... I really didn't know who was going to leave. In my opinion, Luke sang the worse of the two last night. And he looks older than Robbie, so I thought that perhaps Luke would be the one to go. But it was Robbie. I guess the comments to him that he is not authentic and all that crap really took its toll. You could tell Robbie was annoyed when Simon mentioned it again. I'm glad Luke is staying tho, I like him and I think that if he chose the right song, he can really wow us.
So, it'll be a Beatles theme for the top 12. They also forgot to mention that
Blake Lewis
will be singing on the night of the top 12 results. He'll be performing his second single, How Many Words.
And the '80s await us next week...
---