It is ON!!!!
The show starts with the Top 10 performing a Bon Jovi Medley. Starting off with "You Give Love a Bad Name.", the Top 10 launch into "Blaze of Glory", "Livin' on a Prayer", "I'll Be There For You.", "Making Memories", "Always", to finally end the medley with "You Give Love a Bad Name." The group sing was pretty decent. I missed seeing Greg on my TV, and well, this was great for that. They really showcased him a lot during the show.
Avril Lavigne and her band performed two songs, her new and third single "Hot" and the second single "When You're Gone". Avril seems really happy to be performing on the idol stage. She sounded really good, adding some nuances to her singing that really suited her songs. And of course, her guitarist and back up singer, Jim McGorman was singing and he too sounded amazing (see "http://randomlyyoursbouffe.blogspot.com/2007/09/jim-mcgorman-with-avril-lavigne_12.html for videos of Avril performances).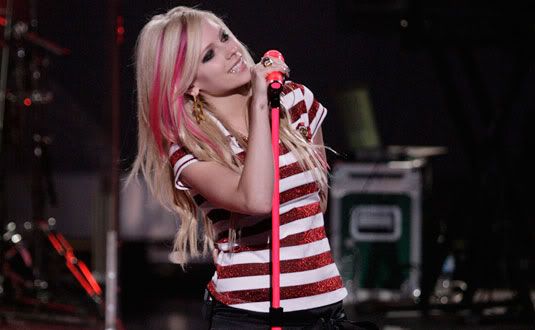 After some blah blah blah, each idol sings part of their favorite song they performed while on the show:
Mila performs "I'm Going Down.", Khalila sings "Family Portrait", Martha sings "Power of Love" (of course), Greg sings "This Love" while playing electric guitar - yum!, Tara sings "Suspicious Minds", Matt sings "Whipping Post" (even better than the first time), Dwight d'Eon sings "Smooth", dressed in bondage black pants and playing the electric guitar. He's a god guitarist, I must say!, Carly sings "Sweet Ones".
Jaydee and Brian sing "Waiting On the World To Change." The rest of the Top 10 join them.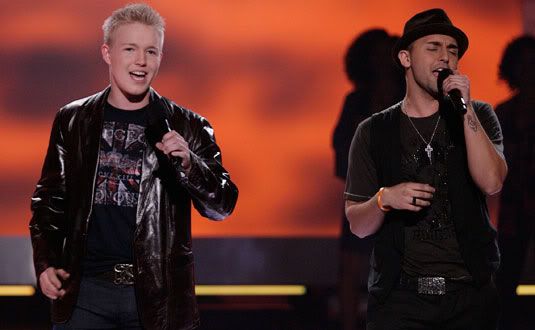 Bon Jovi perform 2 songs ("Lost Highway" and "It's My Life") and sounded pretty darn good.
In their last performance together, the top 10 sing "A Song For You."
Eva Avila takes the stage and performs her single "Falling for You". Eva looks great and seems much more comfortable on stage. I don't care for the song tho...
In his final peroformance of the night, Jaydee sings "Johnny B. Goode." He does sound great when he sings that kind of songs.
For his final performance, Brian chose to do "Karma Police" and blew it out of the park, just like he did the first time.
Jaydee and Brian sing a Medley starting with "Break on Through to the Other Side" . Not to sure what the rest of the songs are ..... :)
Ben finally announces the winner - BRIAN MELO!!!!
Greg Neufeld was my favorite all season, and I really was rooting for him. But Brian was my second choice, so I am happy he won. :)