Interviews/Articles:
'Idol' Chris Richardson comes back to town
http://content.hamptonroads.com/story.cfm?story=132660&ran=210741
Exert:
The "Idol" odyssey has jump-started Richardson's hopes for a solo music career. From here on out, his name could pop up in many places besides Chesapeake.

We caught up with HR's newest musical celebrity on the road, while he's working on the album he hopes to release.

When's your album coming out? Do you have a date yet?

I don't have a date yet. I'm working on it as we speak. I've been writing on it, but I'm not officially signed with anyone yet. But I do have three songs that'll be on Blake's (second-place winner Blake Lewis) album. I've been writing with him. Hopefully I'll have a couple on Jordin's. (Jordin Sparks, first-place winner.) On the tour I've just been songwriting. I've been trying to build credibility in different fields, not just as a solo artist but songwriting. I think in the music business you gain more respect the more stuff you dip your hands in.
Video: 'Idols' party at a Norfolk club Monday night
http://hamptonroads.tv/index.cfm?locvid=132654
Exert:
Video: 'Idols' party at a Norfolk club Monday nigh. Chris Richardson is your host.
Review: In Hampton, Idols fight for respect
http://www.dailypress.com/news/dp-now-idolpreshow-0918,0,6962903.story?coll=dp-auto-utility
Exert:
Another highlight of Tuesday's set came courtesy of local hero Chris Richardson, who pulled off an unexpectedly solid duet with Idol winner Jordin Sparks on Rascal Flatts' ballad "What Hurts the Most."

As for the much-talked-about band segment featuring Richardson on drums, Sligh on bass, Blake Lewis and Malakar on guitar, and Stacey on keyboards, let's just say the boys didn't embarrass themselves. Richardson showed he has a natural rhythmic feel and Stacey's keyboard chops sounded solid enough. They managed to cook up a listenable take on the Gnarls Barkley hit "Crazy" before moving on to a bombastic and at times regrettable "Hey Jude."

Maybe it's the way the producers of the show planned it, but, in the end, Sparks and Lewis, Idol's top two contestants, seemed the night's true stars. Lewis got plenty of stage time for his human beatbox routine, but he also sang well and performed like a seasoned entertainer.
'Idol' chatter rocks city
http://www.dailypress.com/news/local/hampton/dp-25603sy0sep19,0,2900859.story
Exert:
When the Chesapeake resident grabbed the microphone during the American Idols Live! stop at the Hampton Coliseum, screams and cheers ricocheted to the rafters and back. But Richardson, who shined on a showcase version of the peppy tune "This Love," was far from the only idol who made the nearly 6,000 fans howl with happiness.

Singer Blake Lewis impressed with his human beatbox routine. Phil Stacey poured enough vocal power to float a battleship into his version of Bon Jovi's "Blaze of Glory." The 2007 "Idol" show winner Jordin Sparks showed the chops and charm that won over so many voters.
American Idol tour hits Hampton Roads - Video also available
http://www.wavy.com/Global/story.asp?S=7095902&nav=23ii
Exert:
He says, "Getting back to my hometown, it's so exciting. Everyone else has been to their hometown already and mine is at the very end. But it's been good, everybody seems to like it and love the area."

Richardson and the other top ten finalists came to Hampton Roads for their 55th show on the idol tour. But before taking the stage at the Hampton Coliseum, they took in a little family time with Richardson in Chesapeake.

"They had a BBQ at Chris's house with all his cousins. We had a good time," says another idol, Blake Lewis.
Pictures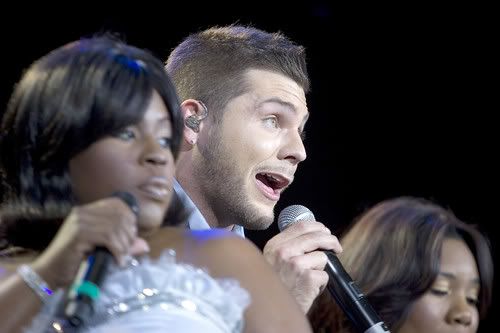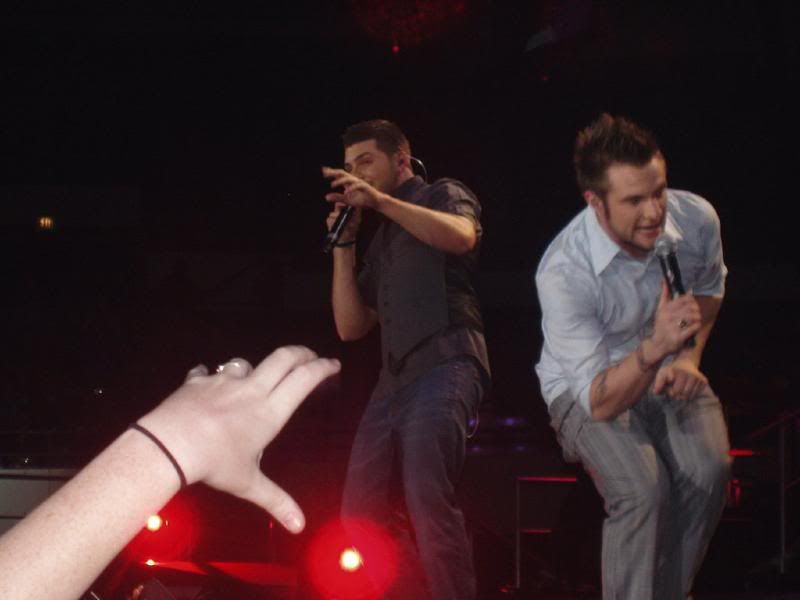 Videos
Blake Lewis & Chris Richardson - Beatboxing
(From: seahawksxl)
Chris Richardon Beatboxing
(From: Pinkislove00)
Chris Richardson - Let's Get it Started
(From: KCKel1)
Heard it Throught the Grapevine
(From: KCKel1)
Blake Lewis & Chris Richardson - Ain' No Sunshine/Virtual Insanity
(From: KCKel1)
Blake Lewis & Chris Richardson - Geek in the Pink
(From: KCKel1)
Blake Lewis & Chris Richardson - Geek in the Pink
(From: dontyouwish)
Blake Lewis - She Will Be Loved/With or Without You
(From: dontyouwish)
Blake Lewis & Chris Richardson - Beatboxing Battle
(From: KCKel1)