Interviews/Articles:
Review: America Idols Live tour
http://www.news-record.com/apps/pbcs.dll/article?AID=/20070912/NRSTAFF/709120327
Exert:
Chris Richardson and Gina Glocksen harmonized well, Blake Lewis repeatedly brought the house down with his beatboxing routines (though his voice was on the whiny, adenoidal side), and four of the ladies did a choreographed routine in which Haley Scarnato wore the shortest skirt possible without risking arrest.
'Idol' concert provides lots of family fun
http://www.thetimesnews.com/articles/fans_5727___article.html/idol_concert.html
Exert:
The show's 10 finalists seemed genuine, often interacting with fans seated near the stage. The crew got in on the act, too. There were a few adults with "all access" passes walking around the auditorium, scouting out fans. A teenage girl with braces and her mom were standing near my seat during intermission when a woman approached and asked who her favorite "Idol" was. The girl quietly responded "Blake," as in Blake Lewis. Well, the woman asked to borrow her cell phone, went backstage and returned with a photo of Blake. The girl couldn't stop smiling.
Pictures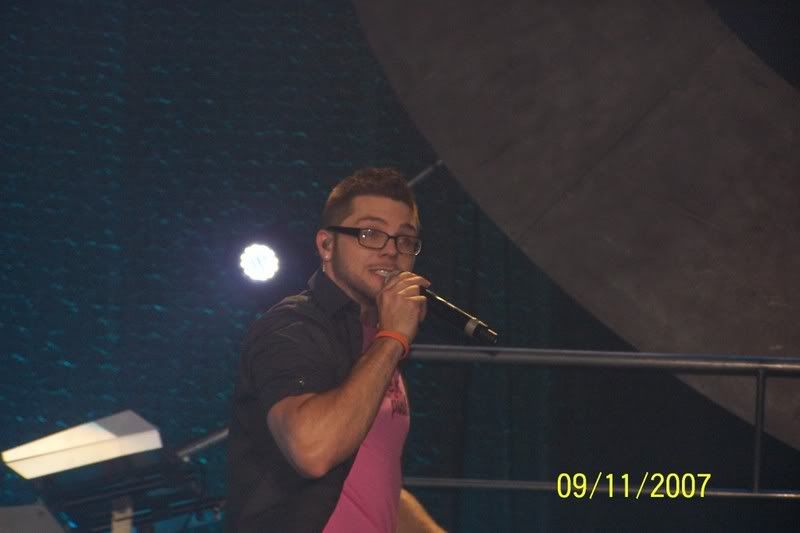 Videos
Blake Lewis - She Will Be Loved/With or Without You
(cakeshake1691)
Blake Lewis & Chris Richardson- Geek in the Pink
(cakeshake1691)