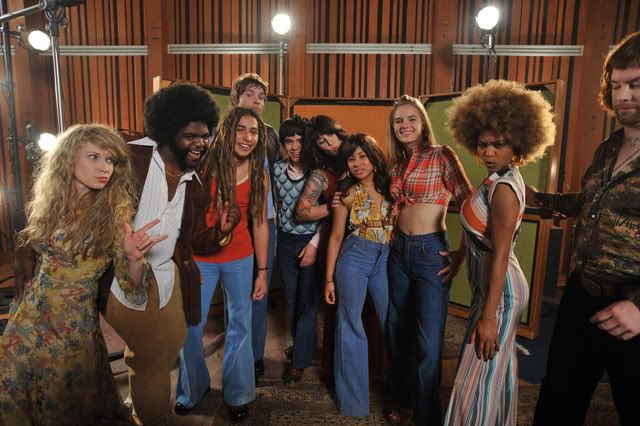 http://www.businesswire.com/portal/site/google/?ndmViewId=news_view&newsId=20080625005240&newsLang=en
Fans Will Get a Sneak Preview of All-New Guitar Hero® World Tour and Watch A Guitar Hero Competition on Center Stage
SANTA MONICA, Calif.--(BUSINESS WIRE)--This summer, Activision, Inc.'s (Nasdaq:ATVI) Guitar Hero®, the #1 best selling video game franchise of 2007, will go coast-to-coast with the American Idols Live! Tour 2008, kicking off in Glendale, Ariz. on July 1. The sponsorship fuses the two pop culture phenomenons together for a second time, building on the success of the dual-branded "Risky Business" TV advertisements that featured season seven winner David Cook and finalist David Archuleta last month. In the upcoming 53-city tour, concert-goers will be among the first to experience three of the newest Guitar Hero games, the highlight of which will be a sneak-peak video demonstration of Guitar Hero World Tour, which officially hits shelves this fall.
The 10 "Idol" tour finalists will be part of a halftime Guitar Hero World Tour rockumentary, created by advertising agency DDB, that blends the camaraderie of hanging out in the studio with the franchise's latest transformation of music gaming - a slick newly redesigned guitar, a genuine electronic drum kit and a microphone. In each city, expert shredders will also face-off on center stage, and Guitar Hero: Aerosmith and Guitar Hero: On Tour will be available for everyone to play in a booth throughout the tour.
"The American Idols Live! Tour is for families to immerse themselves in the Idol experience first-hand, and what better way to bring a personalized, super star feeling to life than by playing Guitar Hero," said Iain Pirie, head of 19 Entertainment U.S. "Integrating Guitar Hero into the tour gets fans actively involved and provides an added dose of entertainment that we know they'll love."
"The Guitar Hero franchise is continually searching for new and organic ways to connect with music fans," said Robert Kotick, Chairman and CEO, Activision, Inc. "Linking the concert-going experience with a chance for people to feel like they are taking center stage with Guitar Hero delivers on just that. By going from town to town alongside 'American Idol,' we are building a strong community and providing new ways for families and friends to spend time together by sharing the magic of music."
This week, rockers of all ages can enjoy two new video games from the Guitar Hero franchise, including:
* Guitar Hero: On Tour – For the first time ever, Guitar Hero fans can rock out anytime, anywhere with Guitar Hero: On Tour. Designed specifically for the Nintendo DS™, Guitar Hero: On Tour is bundled with a revolutionary Guitar Hero™ Guitar Grip™ and is currently available in stores nationwide.
* Guitar Hero: Aerosmith – Rock this way with America's greatest rock n' roll band, Aerosmith. Relive the band's illustrious career from their early days at Nipmuc High School and continue on their journey to becoming rock royalty. Available on June 29, 2008 for Xbox 360®, PlayStation® 2, PLAYSTATION® 3 and Nintendo Wii™.