Blake in OK Magazine: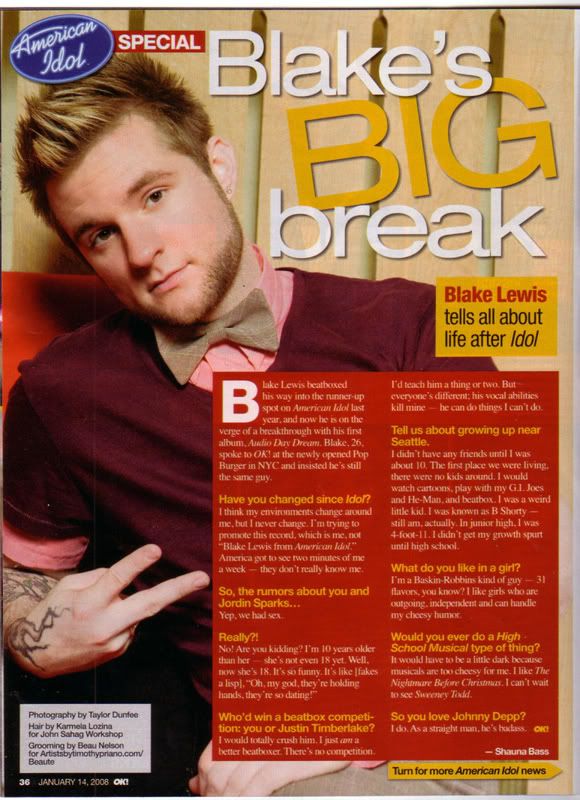 *************************
Blake Lewis has A.D.D.
http://www.mp3.com/news/stories/10649.html
American Idol runner-up talks about making the ultimate '80s mixtape for his debut album.

As Chris Daughtry found out in 2007, you don't have to win American Idol to reap the benefits of the show's incredible popularity.

For Blake Lewis, the beat-boxing runner-up on the sixth season of American Idol, he lost out to Jordin Sparks, but he gained a record deal with show creator Simon Fuller's 19 Recordings. Lewis' debut album, A.D.D. (Audio Day Dream), hit stores Dec. 4 and has sold more than 210,000 copies.

Lewis spoke with MP3.com about his wild ride on Idol, reaping the rewards of national television exposure, and taking A.D.D. on tour.
*************************
Blake Lewis Appears On KVOS TV In Bellingham
*************************
Blake Lewis on Life After American Idol
http://www.ok-magazine.com/posts/view/3562/
It's been a year since Blake Lewis beatboxed his way into America's heart. Since his second-place finish on American Idol, the 26-year-old has toured the states with his season six crew and released his first album, Audio Day Dream. But even with all the big breaks, Blake tells OK! he's still the same old guy from Seattle.

"I think my environments change around me, but I never change," he tells OK!. "I'm trying to promote this record, which is me, not 'Blake Lewis from American Idol.'"

Blake is also quick to extract himself from another AI link — a romance with champ Jordin Sparks. While rumors abound that things are heating up between the two, he says that couldn't be further from the truth.

"Are you kidding?" he says. "I'm 10 years older than her... It's so funny. It's like [fakes a lisp], 'Oh, my god, they're holding hands, they're so dating!'"

So what does he look for in a girl?

"I'm a Baskin-Robbins kind of guy — 31 flavors, you know? I like girls who are outgoing, independent and can handle my cheesy humor."

For more on Blake, check out the newest issue of OK!, on newsstands now.