The GoodRobbie Carrico
25, Melbourne, FL
Ghaleb Emachan
27, Miami, FL
He sings "You Sang to Me" by Marc Anthony. I usually don't mind an accent, but Ghaleb's is very strong. He probably sounds much better when he sings in Spanish. Still, he's not bad, and he's got a cute smile.
Corliss Smith
20, Jacksonville, FL
She comes in with her friend Brittany, and they audition one after the other. You expect Corliss to suck she's so over the top... But she doesn't. She can sing! She auditions with "Take 5.
Brittany Wescott
20, Jacksonville, FL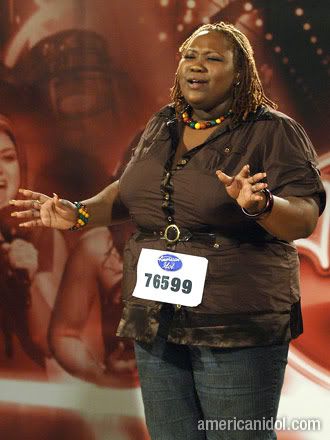 And this one can sing, too! She sounds even better than her friend. She sings "My Guy".
Suzanne Toon
21, Clearwater FL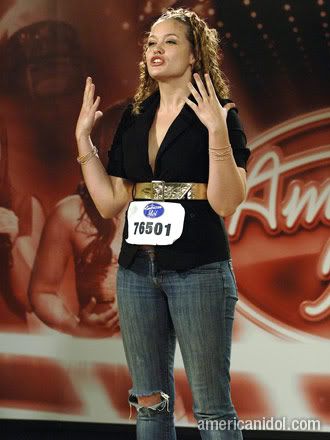 She sings "I Can't Make You Love Me" by Bonnie Raitt. She seems really nervous, and tho her phrasing is a bit off, she has a good soung going on.
Ramiele Malubay
19, Miramar, FL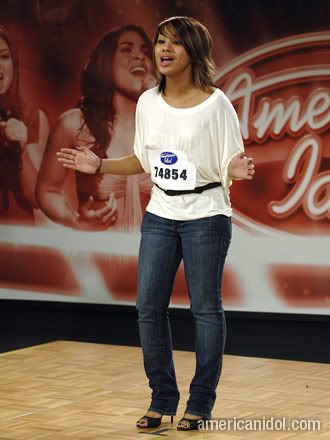 She sings "Natural Woman" by Aretha Franklin. A bit shouty here and there, but good over all.
Syesha Mercado
20, Miami, FL
She sings "Think" by Aretha Franklin. I was expecting her to be better than what she offered... But I think she's got great potential.
Nastashia Blach
29, Fort Collins, CO
She sings "At Last" by Etta James.
Ilsy Lorena Pinot
28, Miami, FL
She sings "Unfaithful" by Rhianna
The BadShannon McGough
18, Okeechobee, FL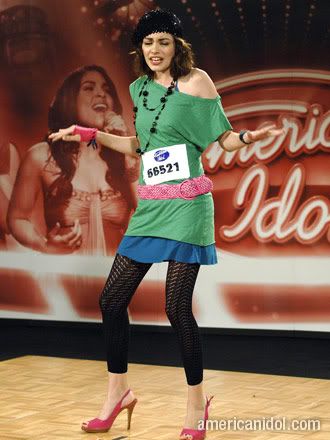 She sings "Cry Baby" by Janis Joplin, and when the judges tell her she sucks, she is completely floored.
Julie Dubela
16, Stratham, NH
She sings "Me and Bobby McGhee" by Janis Joplin. She was on a singing show when she ws 12. She is very much rehearsed in every move she makes, in every note she sings. She could be good, if she let loose a little. She didn't go through.
The UglyBen Hausebach
26, Melbourne, FL - "Crocodile Rock" by Elton John
Carroy Bethea
27, Fort Myers, FL - "Chain of Fools" by Aretha Franklin
Grant Rhea
24, Miami, FL
Fabienne Hyppolite
28, Hollywood, FL - "When I Fall in Love"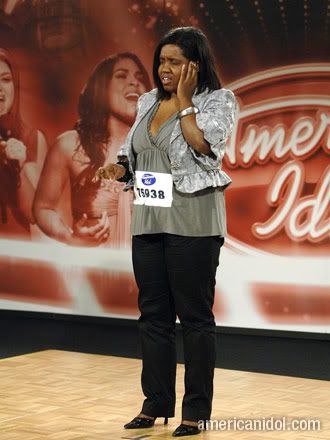 Richard Valles
19, Tampa, FL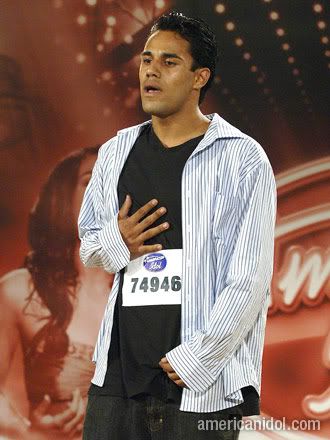 He sings "God Bless the Broken Road" by Rascal Flatts. VERY nasal. Wow.
Brandon Black
20, Pompano Beach, FL
Stand up comedy routine that is not funny.