Very strange show. 23 people got golden tickets to go to Hollywood, but we are shown only 4...
The Good
And it's a relative term. I didn't think anyone really stood out from the Charleston's auditions. Meh.
Michelle Lampkin
26, Fort Mill SC and
Jeffrey Lampkin
24, Newberry SC
Brother and sister auditioning together. They sing "I'm Your Angel" by R. Kelly and Celine Dion. While Jeffrey sounds better than his sister, Simon just "can't seperate those two". So they both go through.
Amy Katherine Flynn
16, Knoxville, TN
Captain of her dance team and member of a group that lectures students on abstinence, Amy comes off as a bit annoying. She sings "Reflections" by Christina Aguilera, not very well I might say, but she still goes through.
London Weidberg
24, Sullivan's Island, SC
London sings "Good Morning Heartache" by Billie Holliday. She's got a really good voice despite it not being very unique. She goes through.
Lindsey Goodman
, 24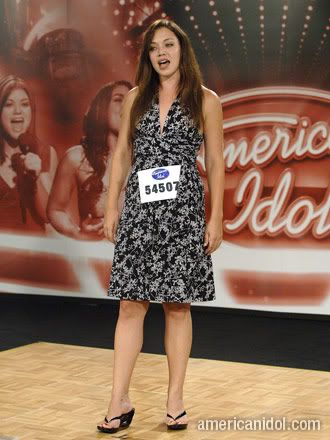 Lindsey is an airforce pilot. She sings "Black Velvet" by Alannah Myles. She was obviously VERY nervous, but I liked the tone of her voice, and I think she has potential. The judges didn't let her go through. I thought she should have.
The Bad
We saw a lot of bad auditions this episode, with many delusional people who argue with the judges, well with Simon.
Raysharde Henderson
27, Atlanta GA
He sings "I Can't Make You Love Me" By Bonnie Raitt. I think under all the theatrics (and the enormous afro) might be a good voice hiding. But this was so over the top... WOW.
DeAnna Prevatte
26, Albermarle NC
She angrily sang her way through "Fancy" by Reba McEntire. Yikes!
Crystal Ortiz
, 26 Raleigh, NC and
Randy Stark
, 27 Abilene, TX
They met on the American Idol Board. They auditioned together. They are shown the door. Ouch!
Aretha Codner
22, Buffalo, NY
A very confident Aretha sings "I Who Have Nothing" by Whitney Houston. Simon tells her she's not good, and that it would be no. She argues so much that the security guards start walking her towards the door... Bad, bad, bad.
Joshua Boson
20, Beaufort, SC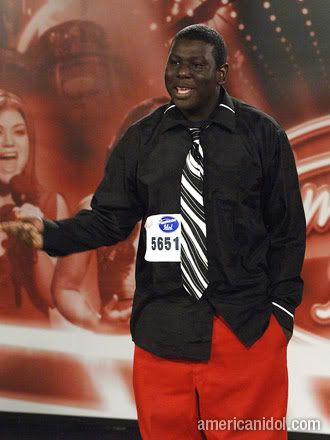 Singing, no wait, screeching his way through "And I Am Telling You" by Jennifer Hudson, this guy is the portrait of delusional. WOW.
Oliver Highman
27, Cornelius, NC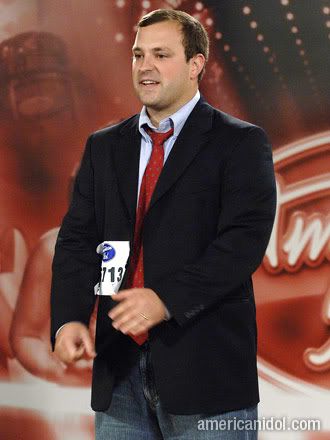 New daddy (the baby was born during the auditions apparently) sings "Get Here" by Oleta Adams, and he is terrible. Oh.