The Competition is Back On!
Thousands and thousands of hopeful are auditioning for this season's American Idol. Many were mediocre, many were passable, many were laughable. But did we see any potential last night in Philadelphia?
The Good
Joey Catalano
, 19, Mays Landing, NJ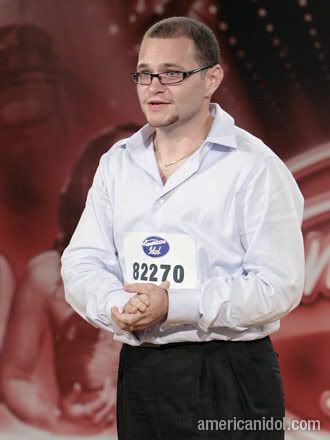 Joey's auditioned last year, and since then, he's lost 200+ pounds. He sings "Sunday Morning" from Maroon 5. He sounds good, nice falsetto.
Melanie Nyema
, 26, Los Angeles, CA
Backup singer for
Taylor Hicks
, Melanie sings "Unwritten" by Natasha Bedingfield. She seems to have a good voice, and a really nice personality, but she seemed to hold back a lot on us...
Jenot Joyner
, 25 Bowie, NJ
Jenot sang "I Guess that's Why They Call it the Blues" by Elton John. He showed off a nice soulful voice.
Jose Candelera
, 23, Bayonne, NJ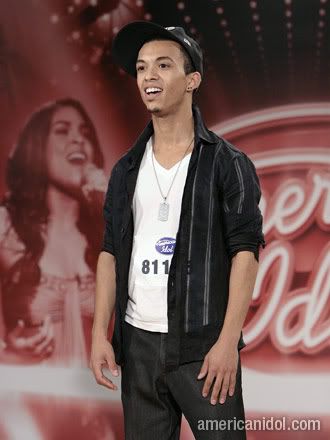 Singing in Spanish, Jose showed off his voice, and it was nice!
Angela Martin
, 26 Chicago, IL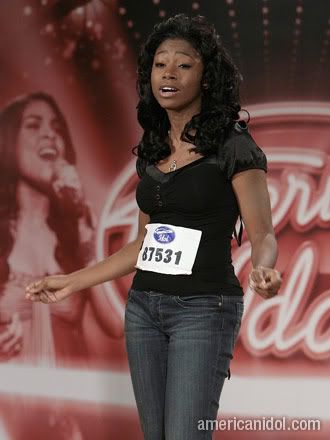 Her backstory definitely touches the heart. She has a handicapped daughter, and her family supports her and helps take care of the child. She sings "Signed Sealed Delivered" by Stevie Wonder. She needs to be more confident! She's pretty, has a good voice, and seems to have a nice personality.
Kristy Lee Cook
, 23, Selma OR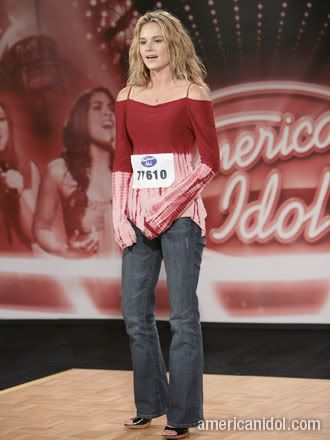 She sold her horse to come to the auditions. She sings "Amazing Grace" and does very well. Simon practically drool he likes her so much. Apparently, she had a record contract and recorded a video previously...
Chris Watson
, 20 Dover, DE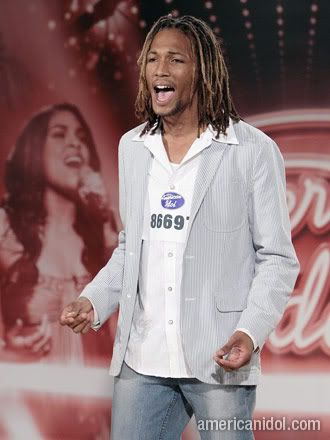 Singing "Follow Me" by Uncle Kracker, Chris impresses the judges. Simon thinks he looks like a star.
Brooke White
, 24 - Van Nuys CA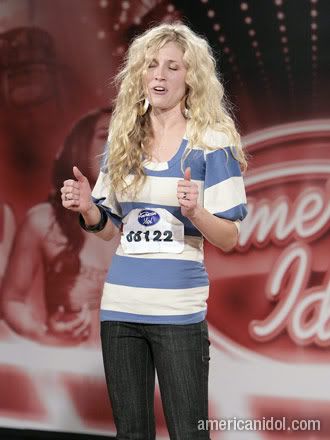 Pure voice, great personality. She sings "Just Like a Star" by Corrine Baily Rae. The judges love her.
The UGH????
Alexis Cohen
, 23, Allentown, PA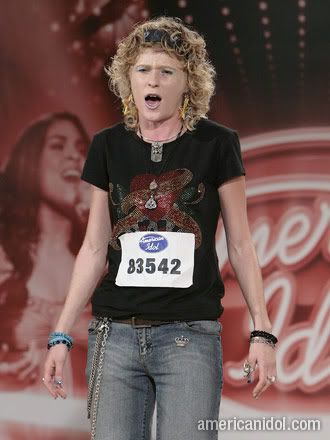 Alexis sang "Somebody to Love" by Jefferson Airplane. We are shown a bit of her background - turns out she paints, as well as sing. She's a good painter, actually. And not a bad singer at all. But she is so weird, so out there, that she doesn't get through.
The Bad
James Lewis
, 22, Philadelphia PA - "Go Down Moses" Paul Robeson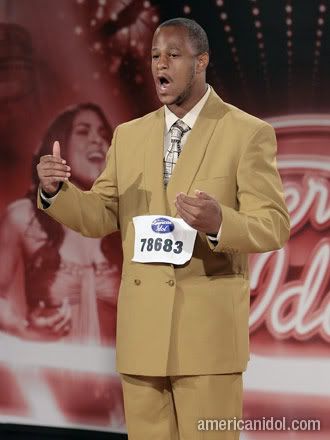 Ben Haar
, 27, Newark, DE - "Doncha" by the Pussycat Dolls
Hum.......... Yeah.
Paul Marturano
, 32 New Hope, PA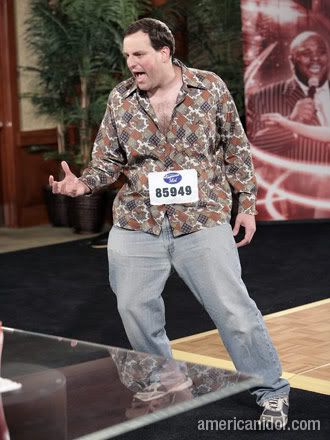 This one wins the creepy award hands down. He wrote a song about stalking Paula Abdul. It's funny at the beginning, but it quickly turns pretty creepy. He sings, not listening to anyone, advancing slowly on Paula. Simon tries twice to stop him - I think HE was getting worried... Security escorts him out.