Dallas was entertaining, for sure.... Simon was very nice this episode, saying "I like him/her" about many contestants.
The Good
Jessica Brown
, 24 Longview, TX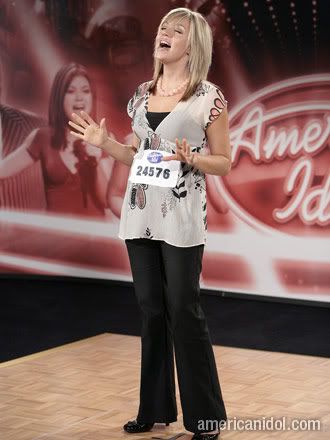 Jessica sang "I'll Stand By You" by the Pretenders.
Alaina Whitiker
, 16 Tulsa, OK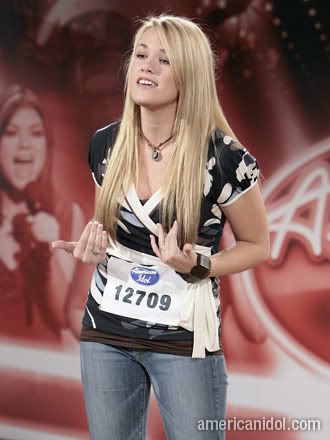 Simon thinks she's nothing special, but still , she goes through... She sang "Stronger" by Faith Hill.
Pia Easley
24 Chicago, IL
Singing "I've Got to Use My Imagination" by Gladys Knight, Pia impresses. Background singer by profession, she certainly is full of confidence and seem ready to step to the front. Very good voice, nice unique look.
Kady Malloy
, 18 Houston, TX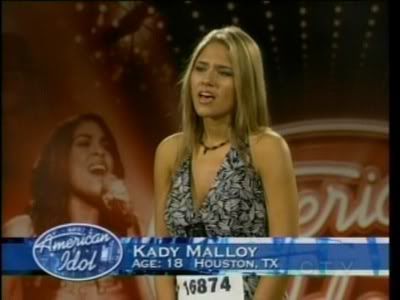 Kady does impersonations. When Simon asks her to hear "her", she launches into a beautiful, controlled version of "Unchained Melody" by the Righteous Brothers. She's through, without hesitation.
Kyle Ensley
, 21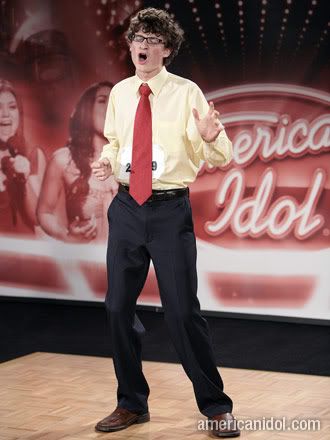 Kyle sings "Somebody to Love" by Queen. I really didn't expect this political science student to be as good as he was... Nice surprise.
Colton Swon
, 18 Muskogee, OK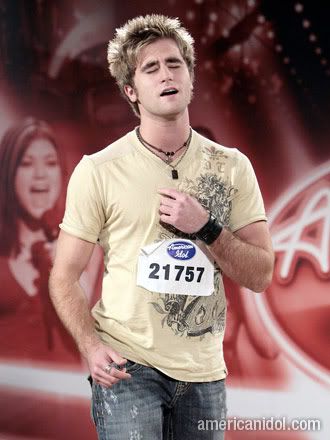 Guitar player, drummer, you name it. He's good. He sang "Boondocks" by Little Big Town.
Drew Poppelreiter
, 24 Saltillo, MS
Nice voice... Very nice. He sang "Check Yes or No" by George Strait.
The Ugh??Bruce Dickson
19 Backstrop TX
The guy talks about how he's never kissed a girl, how he's saving himself for the right woman. It's a bit weird, honestly. He sings, "Ain't No Sunshine" by Bill Withers, and while he flubs the phrasing, he's got a decent voice... Yet, he doesn't go through.
Brandon Greene
, 21, Lucedale MS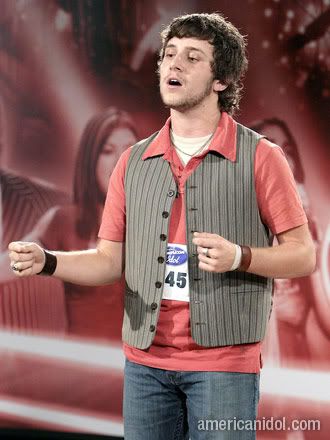 Despite a good audition and a good voice and being put through, I hd to put this guy in the UGH? category. The guy has a collection of... clipped nails. Oooooooooookaaaaaaaaaaaayyyy... He sang Rich Girl" by Hall and Oats.
Kayla Hatfield
, 24 Campbell TX
Kayla survived a terrible accident that left her blind in one eye. She is so happy, so grateful, has such an infectious attitude... Despite an average voice, she's through... Simon wishes he could be her for an hour or two everyday. He LIKES her. She sang "Piece of my Heart" by Janis Joplin.
Nina Shaw 24 Burleson TX
Nina sang "Run to You" by Whitney Houston. There is no doubt in my mind that she got through because of her looks and because she hails from the same town as Kelly Clarkson. Not really deserving, IMO.
Renaldo Lupez
, 44 Reno, NV
Singing his own song, Renaldo doesn't go through but manages to make Randy, Ryan and Paula dance and make Simon laugh hysterically. VERY entertaining... "You are my brother, my best friend forever..."
The Bad
Paul Stafford
, 25 Crosby TX - "Wait For You" by Elliott Yamin
Paul has a very endearing personality. Unfortunately, he cannot sing...
Douglas Davidson
, 28 Austin TX
Oh. My. Dear. Lord. "Living on a Prayer" By Bon Jovi
Tammy Tuzinski
, 24, Grapevine TX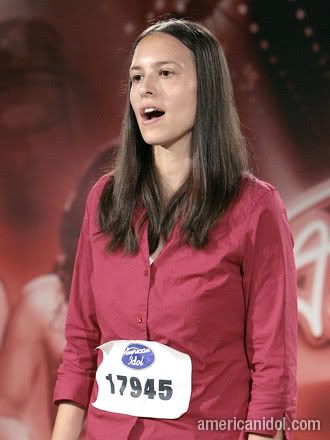 While she sang "If You Ask Me To" by Celine Dion, I think I fell asleep she was so monotone.
Kyle Reinneck
20 Edwardsville, Ill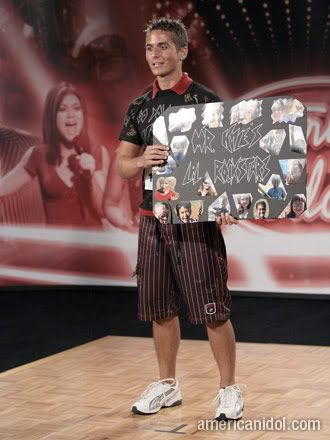 His over the top, fake rocker attitude just doesn't work. He sang Kelly Clarkson "Never Again".