Well, this has been long overdue!
I was away on vacation for a bit more than 2 weeks, and I've had a heck of a time catching up on all the artists I'm following! So here's a bit of a quick update, as I catch up on all the blogs I need to write about all the events I missed.
JIM MCGORMAN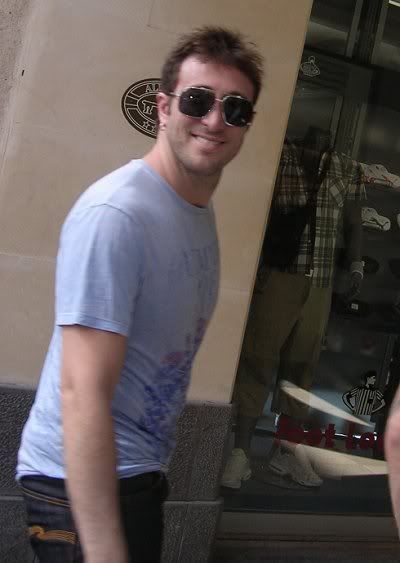 Jim is now in Asia - probably somewhere in China - touring with Avril Lavigne. Few videos are coming out of this Asian tour, but there are some gems out there that I need to post for you guys. In the meantime, why not check the Q&A Jim has done exclusively for rockbandlounge.com? You can find Jim's answers to our members' questions here:
http://www.rockbandlounge.com/forum/topic.asp?topic_id=5670&whichpage=2
I'd also like to tell you about a new artist Jim has collaborated with. We've heard that Jim wrote songs with
Kate Voegele
, the first artist to be signed to MySpace Records music label.
From her MySpace page:
http://www.myspace.com/katevoegele
Ambitious by nature and powerfully motivated by these gratifying early experiences, Voegele continued to write, including collaborations with pros like [b]Jim McGorman[/b] (Michelle Branch) and Peter Zizzo (Avril Lavigne), and to record, working up a set of impressive demos in L.A. with Altman in 2004, marking the beginning of what has turned out to be a fruitful partnership.
Jim has told Rebound that he's written "It's Only Life", which might be one of her singles. You can listen to it on Kate's myspace, or buy it off of iTunes!!!
From Rebound:
I co-wrote a song with a cool, talented new artist on myspace records (the first artist signed there, actually). Her name is Kate Voegele. The song is called "It's Only Life" and it looks like her management is pushing the song to a bunch of TV shows and indie movies - so look out for that (and please let me know if you hear it). It may even be one of her singles. It is her most popular download on iTunes by far.

Thought you might want to check it out! The bridge of the song is very me (my favorite part). I hope you dig it.
Thanks
Jim
After listening to it, I think the whole song sounds very "Jamestown-ish", which is great! I really like the song, great feel to it. And yes, I can certainly understand why Jim says the bridge is really him - I can certainly imagine Jim singing this song.
Anyway, check it out! I think you are going to like it!!! :) I certainly do! :)
GREG NEUFELD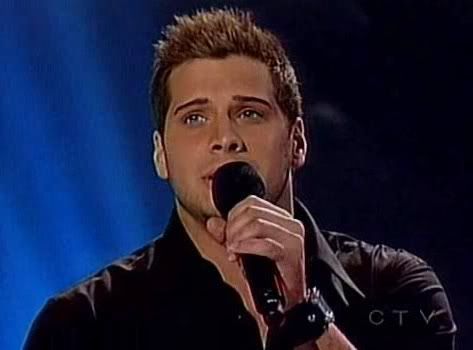 Well, well, well. Greg was eliminated from the Canadian Idol competition 2 weeks ago. Althought there are talented singers left in the competition, I have no interest what so ever in following it anymore. Greg was far and away the best singer this year - it was his competition to loose. I really have no clue what happened, and why Greg was sent home. One thing I know for sure - Greg WILL make it and WILL have a successful career. He is too talented not to!
So here's his last performance on Idol - We are The Champions (I swear this song is cursed!)
And here's his elimination clip - it still breaks my heart to watch this. :(
But now rejoice! *L* Check Greg out on his band's MySpace page:
http://www.myspace.com/dimarcomusic
There is some really, really cool music to listen to on that page. Greg's bandmates are really cool and talented. I cannot even tell you how much I am looking forward to hearing what DiMarco will come up with as far as album, and how much I'm looking forward to seein them live soon!!!
BLAKE LEWIS
Well, Blake is a very busy bee. He's touring with American Idols right now, and I've had the chance to see him as well as Chris Richardson and the other idols live on stage here in Toronto. I'll write a report about my experience soon, I promise!
There is much to post about Blake, as he does a show almost everyday, if not every other day. There's also much talk about his most anticipated upcoming album, which he is recording while on tour. So far, we know Blake has recorded 8 songs for his album that he plans on calling "Audio Daydream (ADD)." Chris Richardson has written songs for him, and has recorded some back vocals for him as well. Blake is working with all sorts of people, including Pete Ganbarg who will be A&R'ing Blake's major label debut.
Billboard published an article about Blake's upcoming album. There's mention of collaborators such as producers such as Sam Hollander, Mike Elizondo and J.R. Rottem and bt. The article can be found here:
http://www.billboard.com/bbcom/news/article_display.jsp?vnu_content_id=1003625142
Stay tuned, it promises to be one heck of an album!