Ex-Idol Contestant Hits the Road
Greg Neufeld Releasing New CD, Too
By Angie Valente
From the Thunder Bay Spot
Transcribed by kissedbythegods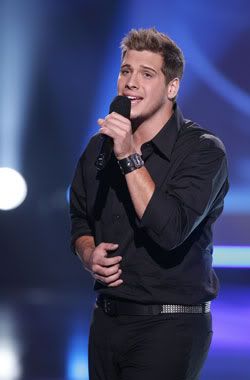 Greg Neufeld was taught how to play guitar by Dave Matthews, sort of. Neufeld, a 24-year-old from Abbotsford, B.C. discovered his voice in Grade 8 music and drama class while acting as an opera singer in a skit, and from choir practice. He then made it his mission to learn every Dave Matthews song.
Not only was it his boy-next-door good looks that landed him a top-seven spot on the national TV show Canadian Idol last summer, but his multi-faceted husky voice that made Neufeld a shoe-in winner. "I was surprised because I hadn't been in the bottom-three for the show's entirety, and then I was voted off," Neufeld says.
All in all, he found the idol experience a rewarding one and hopes people can see it for more than how it appears on the surface. Neufeld doesn't think people give the show and its "talented" contestants enough credit.
In retrospect, Neufeld considers his stint on national TV to have been, above all, a learning experience. "I learned how to be a performer. I used to just hide behind my guitar, and on Idol, you're forced to interact with the cameras and the crowd. I found the happy medium of how I liked to perform. It pushed me out of my comfort zone. Sometimes you get thrown into a genre that you're not comfortable with."
It's these skills that have honed Neufeld into the performer that he is today, and the same skills he'll take on his first cross-Canada tour, which involves a stopover at Jack's in Thunder Bay on Feb. 2.
"The good thing about Lukas (Rossi) is that he's a really good draw," says Neufeld, about his tour partner - a "Rock Star: Supernova" show winner. Neufeld has nothing but praise for his touring buddy. Every show Neufeld has ever played with him has been sold out, or close to. "(Rossi's) a really genuine guy," Neufeld says. "When he told me he wanted me on his tour, he did everything he could to make it happen. I play my set and then I become a fan. I come out into the crowd to watch. It's really insane to witness."
Neufeld's goal on the unplugged acoustic tour is simple: play as many new songs as he can fit into his opening slot. "It's a commercial for me," he says.
Neufeld's self-titled debut album was recently completed and duplicated this week, just in time for the tour kick-off in Winnipeg, the night before the show in Thunder Bay. While the album took only a few short weeks to be completed, no corners were cut.
Though and independent artist for the time being, it shouldn't take long for Neufeld to land a deal with a major label. He's keeping good company, especially considering it's his first time up at bat.
On board was Amy Foster Gillies, daughter of Canadian producer, composer and arranger David Foster, who has written songs for Josh Groban, Diana Krall and Michael Buble. "I flew to Nashville and we wrote three songs together, two of which made it onto the album," Neufeld says. "She's a genius. It was really intimidating."
This is the first recording that Neufeld feels truly represents him. "I've done a lot of recording and usually I get sick and tired of it," he says. "This time I think I've captured what I really wanted to get across to people. It's truly who I am."