Greg and Andrew to shoot DVD at historic Toronto venue
http://www.ctv.ca/servlet/ArticleNews/story/CTVNews/20071217/CI5_Neufeld_Austin_071217/20071217?s_name=idol2007&no_ads=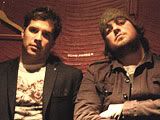 Greg Neufeld and Andrew Austin have the perfect gift for Toronto residents looking to head out on the town over the holidays -- a concert and DVD shoot in one of the best venues in the city.
The two former Canadian Idol competitors, who met during the Top 200 week during Season 4 and were reunited on Season 5, will be ripping up the stage at the converted Berkeley Church on Queen Street East on Dec. 29. The event will be recorded and used to create a DVD supplement for Neufeld's upcoming album.
Neufeld, who placed seventh on Idol's Season 5 and in the Top 14 on Season 4, is billing the show as one of the biggest of his career.
"It's just an amazing room," he told Eye on Idol, referring to the building's legendary acoustics. "We were like, 'we have to play a show here. We have to do it.'"
The Berkeley Church was built in 1871 and, since its transformation to a live event venue, has hosted such famous names as The Fugees, Sam Roberts and Coldplay. It still contains the former church's original 17-foot stained glass windows.
"The Berkeley Church is the coolest venue in the universe," added Austin, who made it to Top 44 in Season 4 and Top 18 in Season 5. "Or at least in Toronto. It's like a dream venue for a musician and for the audience."
The venue carries special significance in the world of Canadian Idol. Neufeld himself did some on-camera interviews in the location during Season 5, and the Barenaked Ladies' workshop during Season 3 was also shot there.
Austin, who recently released a CD called "Just the Way I Feel," said he's glad to be playing with Neufeld both because they're friends, and because Neufeld was the competitor he had picked to win.
"I still think it was crazy that Greg got voted off that early," Austin told Eye on Idol. "I thought he was the best guy in the contest. I'm glad Brian won because I think he's great too, but Greg was my favourite guy in the show."
Tickets for the all-ages show are $20 and available online through Ticketbreak.