Blake Lewis' debut album, Audio Day Dream (ADD) has finally been released! And it does not disappoint. Many big names appear on this album. Ryan Tedder of One Republic has co-written 7 of the songs, while Lewis co-wrote them all but one. Other collaborators to appear on the album are Steph Jones, Evan Boggart, Chris Richardson, Sam Watters, Josh Hoge, Sam Hollander, Jonathan Rotem, BT, Mike Elizondo and so many others. Lewis even gets a mention for co-producing "What' Cha Got 2 Lose?
ADD has received many great reviews so far. As of right now, the album is at #2 on the Top Album chart on iTunes USA (#27 on iTunes Canada) and #1 on the Top Pop Album on iTunes USA (#5 on iTunes Canada). The song "How Many Words" seems to be the americans favorite (according to iTunes USA), while the bonus track "Human" is currently the most popular download on iTunes Canada.
I think it is safe to say that Blake's debut album is doing really well!!!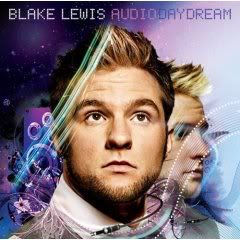 1-Silence is Golden (Intro)
I really like the idea of an intro, interludes and outro for an album. This one as an etheral vibe to it, that intrigues and leads into the next song really well.
Break Anotha
First single off the album, this groovy, a-little-bit-of-everything song warns us all about the dark side of those around us. Nice first introduction to show off what Blake can do. Good vocals, awesome beats that make you groove and move. Catchy chorus that one can't help but sing along to. Love this one for its rock/hip-hop/electro/ska vibes. The break down is amazing!
3-Gots to Get Her
Love the spanish influenced guitar and the horns at the beginning. Inspired by "Puttin'on the Ritz", this is another great get up and dance song. This little passage in the song says it all for me:
"Every little thing that she does is magic, All I really know is I've got to have it"
4-Know My Name (feat. Lupe Fiasco)
This song was leaked a while ago. It was an unfinished version, without Lupe's rap. Gotta say, the rap does add to the song. About Celebrity crushes, Lewis has been teased about this one since he mentioned it was about Nathalie Portman, his own celebrity crush. Vocals are amazing, with some Prince like falsettos thrown in. Fantastic.
5-How Many Words
One of Lewis favorite and most personal song, this one is the kind of song almost anyone can relate to. For those out there longing for Lewis' velvety vocals, this song's for you. One of my very favorite off this album.
"I', letting you go, You're letting me down, Been caught in your reign and I almost drowned"
6-Surrender
The lyrics are great. The beats are awesome, sexy, pulls you in. I love the layering of vocals and back vocals. This one has a real One Republic flavor.
7-Hate 2 Love Her
Lots of piano on this, it reminds me of One Republic because of it. The bridge is totally rad, with the piano building up. Blake's vocals are again fantastic. The A.D.H.D. interlude is probably my favorite of them all.
8-Without You
To me, this is the weakest track on the album and it is still a great song. Blake's crooning vocals are silky and sexy. I adore how he sings it softly throughout the song, only to build it up in the bridge with the piano. The ending with the layered vocals is really, really nice. Over all, a bit cheesy around the edges, but still a beautiful melody to sway from side to side to.
9-Here's My Hello
The chorus of this one is KILLER. Wow. There's a bit of a robotic/electronic feel at the very beginning and then in the bridge. Love it. The lower vocals in the bridge are so sexy.........
"Here's my Hello, Don't say goodbye, Do you want me, Just stay here with me tonight"
Oh and the Dirty Funk interlude? LOVE!!!!!!!!!!
10-What'Cha Got 2 Lose?
One of two track co-written with Chris Richardson. The 30 second snippet on iTunes does NOT make this song justice. Absolutely adore the robotic vocals throughout. The bridge reminds me a bit of Michael Jackson. Very funky and fun. This song benefits from several listen.
11-She's Making Me lose It
Blake is channeling his inner Prince on this fun song. Oh does he ever! Once again the chorus is very catchy and the beats are funky and addictive. The instrumental bridge, with the vocal build-up right after are simply brilliant.
"I can't help myself, When she... She causes me to lose control"
12-Bshorty grabs Mic!
Beatboxing lovers, this one's for you!!!! Recorded live, this one is pure Bshorty magic.
13-End of the World
Another one of my very favorite. Big on vocals, this song shows Blake's range really nicely. The lyrics are beautiful and heartfelt, yet simple. The ethereal vibe, almost Imogen Heap-ish, of this song gives it a bit of a sad note, almost melancholic.
"I'm too weak to be strong, I can't be the only one, Holding on 'til the day you find me, Meet me at the end of the world, I'm waiting, Meet me at the end of the world, Please save me, This could be the place where we start, The rest of our lives"
14-1000 Miles
The guitar throughout is reminiscent of ... I can't pinpoint it, but to me, the guitar is very distinctive. Classic 80's pop feel to this great song, including the robotic bridge. Love, love, love the lyrics.
"But did my words find you then?"
15-I Got U
Very nice ballad. Blake's vocals are so good on this, wow. I love the electro feel of this one. Very catchy lyrics leading up to the chorus. Love the synth.
"But it don't matter, As long as I got U"
16-I Choose Noise (Outro)
Absolutely adore Blake's ethereal vocals on this. The Kaoss pad additions are great!
17-Human (iTunes Bonus Track)
This is currently my very favorite. Co-written with Chris Richardson, the robotic intro grabs you right away. The vocals are stellar on this, letting Blake's voice shine bright. The lyrics are amazing, the bridge is pure genius - falsettos, robotic vocals, beatboxing - brilliant. The chorus is so damn catchy, I knew it all after only two listen (and that's a big accomplishment in my mind). The fact that this song didn't make the album just blows my mind and makes me wonder how many other gems currently sit in Blake Lewis' music journal.
"I'm just Human, Want to do things to ya, Sugar tell me where and when to start, I'm just human, And I don't want to loose it, Got to find a way into your heart, Before it's too late"
Meet Blake Lewis' Band!!!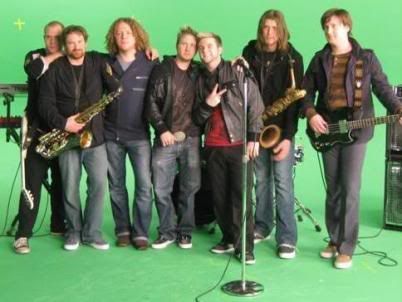 From left to right: Johnny Nails, TJ Berry (from The Panda Conspiracy), Kent Halvorsen, Kevin Sawka, Blake Lewis, Chris Poage (from The Panda Conspiracy), Jeremy Lightfoot.