Bo Bice - See The Light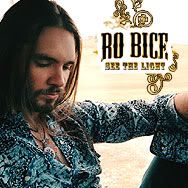 Bo returns to his southern rock roots with this highly anticipated album. And he doesn't dissapoint! Bo had an online listening party on Oct 23, the day of the official album release. He spent 3 hours online with his fans, it was awesome. He played the album for the fans, talked about his collaborations with many artists/friends and called many others. It was really cool. This album is great from top to bottom. Not one bad song on it. Not one! The album is available on iTunes and many stores for purchase - go get your copy! You can also visit bobice.com to listen to the album there and post a review. Here's mine:
1-Witness
Great opening for the album, great for a first single. I love the dual guitars, it's amazing. It's a crank-up-the-volume-roll-the-windows-down-drive-100-miles-an-hour-sing-at-the-top-of-your-lungs feel good kind of song.
2-Take the Country out of Me
Great, great, great rock country song. A little bit of funk, a little bit of country, a little bit of rock... Love the piano on this. Have great potential to be a hit.
3-I'm Gone
Bo's voice is beautiful on this. The guitars are powerful, Bo's voice is full of emotions and the lyrics are really good. Don't let the slow, tender start fool you...
4-Only Words
Bo talked about this song a lot during his online listening party. He wrote this with a girl who broke his heart in mind. This song is full on country in sound, the whiny guitar and the sax adding to the emotions of the lyrics. Bo's vocals are rich and deep, just beautiful.
5-Got Money
Great bluesy song, full of funk and nice guitar riffs. I can see this one being a HUGE hit live. The way the song starts pulls you in right away. Great catchy chorus.
6-See the Light
Bo's sexy voice hits you right in the chest right from the top. The percussions really makes this a dirty song, the vocals make it sexy and the guitars make it soar. This sexy, funky, bluesy rock song grabs you when the chorus starts... The way the song is structured, it reminds me a bit of "Wanted Dead or Alive" from Bon Jovi. Which ain't a bad thing, man!
7-Sinner in a Sin
If I am not mistaken, this song was on Bo's previous album, The Real Thing, as a bonus track. I absolutely adore this song. It is a very "Bo" song to me. The plentive harmonica, the whiny guitar, the soft piano, Bo's vocals and the wonderful backvocals of this song makes it an absolutely beautiful song. The arrangement is brilliant and really allows Bo's voice to shine. A must listen!
8-This Train
Great rock song with still just a hint of country with the guitar and harmonica. This song makes me want to get up and dance! Great catchy chorus.
9-Ain't Gonna Die
Oh, Bo gets the grit out on this one! Driving guitars, addicting beat, gritty, dirty vocals. What's not to love? This is a great rock song that promises to really, really, REALLY ROCK in concert.
10-Whiskey, Women & Time
Another song that was on The Real Thing as a bonus track (or B-side, I can't never really remember). The arrangement is a bit more rocking, a bit more funky, a bit more gritty. The lead vocal and backvocals go so well together and add so much depth to the song. The drum and the organ are absolutely amazing!